Thanks so much for visiting - Please subscribe to my RSS Feed or come say hello on Facebook!
Last winter I got this crazy huge skirt at a vintage store in Philly.  I loved the pattern, but the longer-than-floor length size of it was just too much to handle.  I mean, really, how did ladies in the 70′s wear these huge long skirts?  They must have had some badass high heel platforms.
Anyway, I love the colors and pattern and fabric, so I finally chopped it off and hemmed it into a nice knee-length skirt.  I totally forgot to get a "before" photo.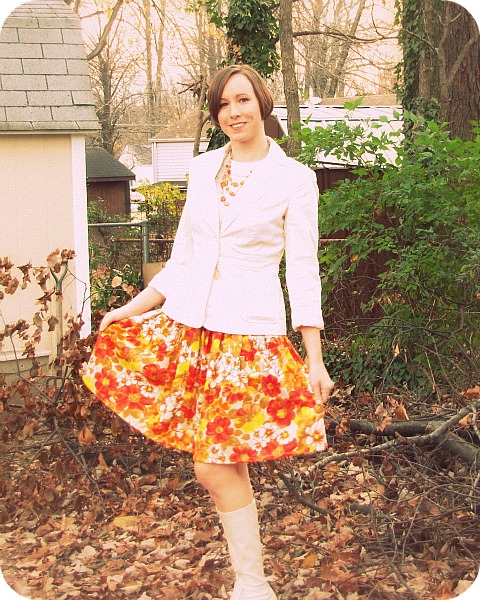 It's still a bit crazy full, with tons of pleats, but I was so excited that I found a way to make it corporate-appropriate, or at least borderline so, by pairing it with a buttoned-up blazer. I'm just tired of wearing boring black or tan pants and a professional top to the office – and I definitely don't want to spend any money buying newer, more trendy office clothes. There's a little black in the skirt, so I think I can also wear it with a black top and black blazer, as long as I pair it with black hose and black boots.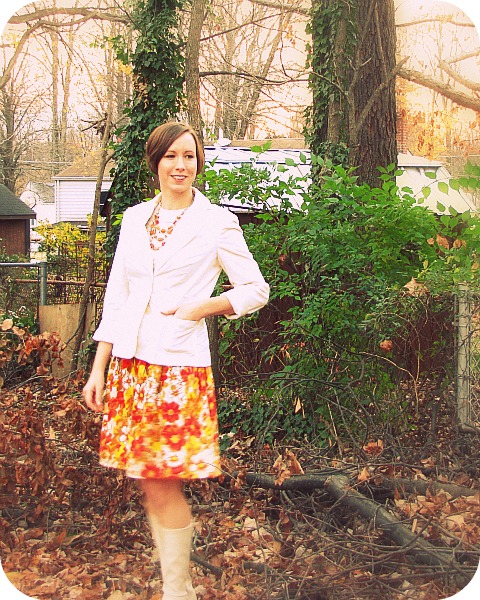 My coworker pointed out that when I took off the blazer the outfit was totally ready for a night of cocktails out on the town.  In theory that's awesome.  If only my life were so exciting . . . ha!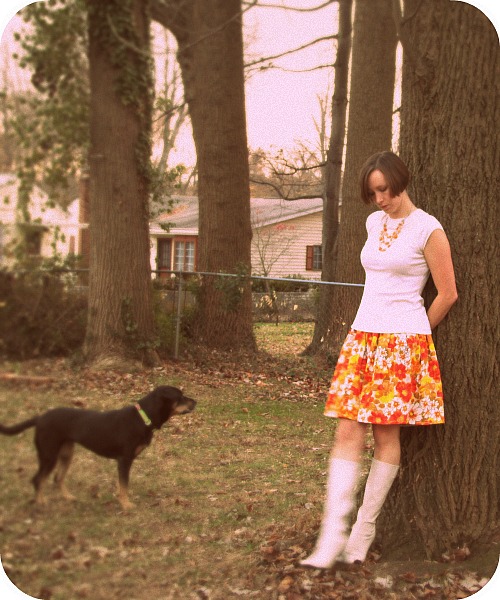 This is one refashioning that anyone can do.  Even if you don't have a sewing machine, and you want to change the length of a skirt, just buy some Stitch Witchery – it's iron-on hem tape.  Just be sure to carefully measure the length of the skirt on all sides, so that you don't end up with it lop-sided.
Skirt – vintage.  Top, Boots, Jacket – all thrifted.  Necklace – Target.  Haircut – DIY'ed.
You can see my previous refashions here and here.