Why am I so trashy?  Why do I corral clutter with old glass jars, and used cardboard boxes covered with fabric?  Why do I scour thrift stores and flea markets for used goods?  Why do I long to build furniture out of wood reclaimed from trashed shipping pallets?
I do it because it's free.  I do it because it's easy.
I do it because it beats sitting in DC traffic to go to The Container Store any day.
But most of all, I do it because it's better for our planet, and the people who inhabit it.
Most of the furniture, decor items, and organizing goodies in stores (from WalMart to Target to The Container Store to West Elm) are made overseas in third-party factories that aren't eco-friendly, and do not provide fair working conditions or a living wage.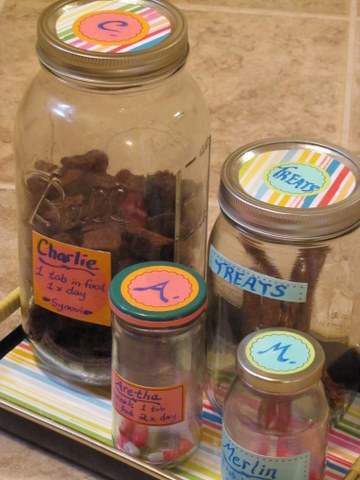 In our society, where more for less is better,  we've been trained to shop without questioning how the items we purchase were made.  We want cheaper prices so we can buy more, and big box retailers give them to us so that sales can soar and stockholders can grow richer.
I didn't used to think about how we got "always low prices" at Wal-mart when I lived one block away in college.   I loved to buy the cute new candle holders at Target, fun decor items, and every organizing bin on earth.
In 2007 and 2008 I read a ton of news reports that kids in China were being kidnapped into basically sweatshop slavery. . . and their local government turned a blind eye to it.  I didn't change all my shopping habits immediately, but I started to think more about the products being sold.    Are we really so desperate for a cute and cheap little desk caddy that we will ignore the conditions in which it's been produced?  Do we really believe that cheaply decorating our home is more important than the way human beings are treated?
Today, two years after that realization, I do think long and hard before purchasing a clothes or decor items.  Like a rug for my living room. In the end, if I decide to buy something – like the little dish soap caddy from Target – it's only after a long time spent thinking about if it's really worth it.
I get it:  This may not be a battle you can afford to wage right now.  I do not judge. The economy's in the tank, and chances are you're just as worried about saving money as the next family. We're all doing different things to leave our mark on this world.  Heck, you're probably doing more than I am, whether through volunteering, through your work, at your church, or by trying your hardest to raise good kids in this crazy world.
In case you're curious, I've saved a ton of money.  I haven't been to Target in over a month, and haven't been to the mall since April. I've investigated labor conditions in factories used by companies like Anthropologie.  These are the choices that I make, and they are the right choices for me.
Here's a few recycling/upcycling/simplifying/repurposing examples from fellow bloggers:

Mikalah at Posy the Porcelain Pig
And of course Sunny at Life in Rehab, is overflowing with examples.  (That's why there's a recycling box at her home that her kids named "crap mom can make stuff out of.")
Sidenote: if you're curious to see how I negotiate even better deals when buying used furniture, you can hop over here.