There are times in life where you just have to fake it.  Like when you find the almost-perfect valance curtain at the thrift store.
In case you don't remember, my kitchen window originally looked like this: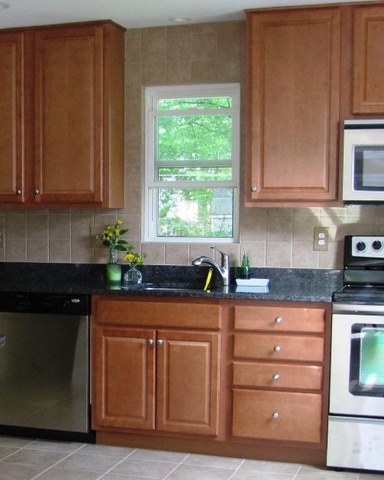 The empty space between the cabinets bugged me.  I tried some floating wall vases from CB2, but wasn't thrilled with the result.  After that disaster, I planned to make a valance for the window . . . but hadn't gotten around to it.
Then I found three green and white handmade valances at the Goodwill, for only $2 a pop.  Knowing that my kitchen colors were supposed to be citrus (orange, yellow, green) – how could I resist? It wasn't exactly the pattern I'd have chosen, but frankly I was happy to find something already made.  I have enough sewing projects on my hands right now.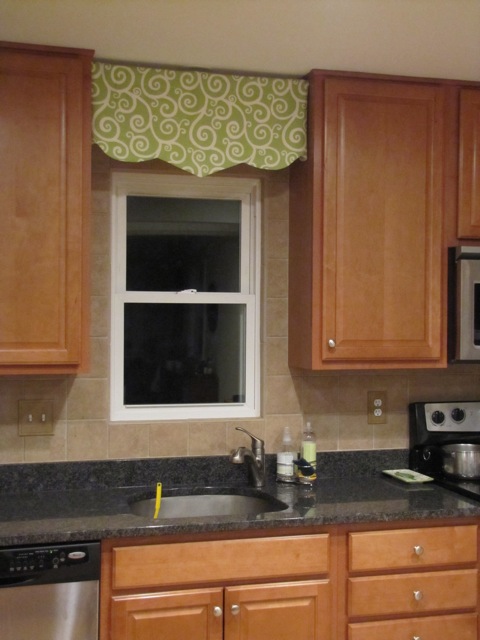 Valances usually hang on rods that come out from the wall and then across the front, creating a boxy shape.  However, the wall surrounding my kitchen window was tiled, and since I rent, I didn't want to drill any holes in it.   Also, the curtain was much wider than the window.  It's a bit tricky to explain, so I'll make a step-by-step list of how I created the custom-fitted look for the window.  Here's how I took the super easy way out:
I found a spring-loaded curtain rod in the basement and adjusted it so that it was exactly the width of the opening between the two cabinets.
I centered the rod into the pocket of the curtain, so that there was an equal amount of excess curtain on either end of it.
Holding tight to the curtain & rod, so that the rod didn't move in the pocket, I sprung the curtain into place in the opening.
The curtain looked great, stretched taught across the opening, but the excess fabric on the ends hung down behind it, looking all shabby.
I contemplated cutting the ends off, and re-hemming the curtain.  But I liked the custom look created by the fabric wrapping around on either side.
Enter the painter's tape. (See, I told you I took the super easy way out!)  I taped that sucker to the side of each cabinet.  I also taped up each bottom corner (see below) so that you couldn't see my cheat unless you bent your head and looked directly up at the curtain.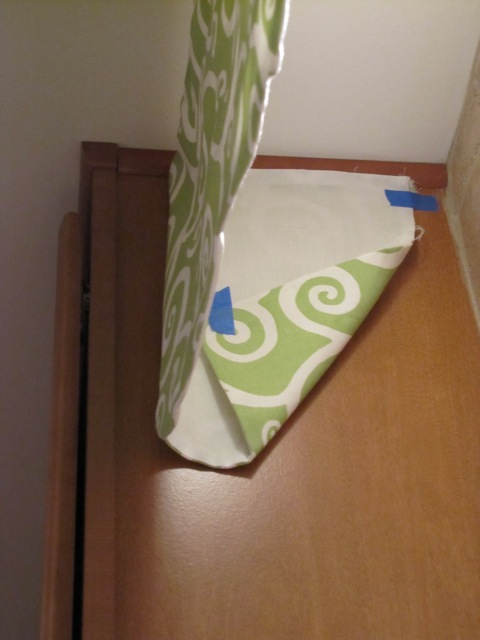 Ta-dah!  A $2, super-easy-lazy-style kitchen window update.  I am so happy with the result.  And because I used painter's tape, there's no worry about messing up the finish on the cabinet.
I have two more valances (I bought the whole batch) and was going to put them on the other kitchen window, but I think that it would be a bit too classic for my modern taste.  What do you think?