Here's an insanely quick and easy way to clean the microwave – without using a drop of cleaning detergents.  Yet again, I forgot to get a "before" photo.  But after I tried my inspired cleaning idea, and it worked, I did it again so that I could take a few pics for you all.
Take a folded rag and wet it with water. Just water. Not soaking and dripping, but pretty wet.
Place it in the microwave.
Microwave on high for 2 minutes.
Open microwave door, and watch the steam pour out.  Can you see the steam?  It's the blurry white areas:

Using a rubber glove or oven mitt to protect your hand from the heat, grab the steamy hot rag (that sounds funny, but do it anyway) and wipe down the ceiling, walls, floor, and tray of the microwave.  The grunge should come right off.
See this rag that I'm holding up? That chocolatey-brown stain is, in fact, all the grunge that I wiped off the base of the machine after steaming it.   And see how clean the rest of the microwave is?  Only minutes earlier it had been splattered in spaghetti sauce, chocolate, soup, and a million other things.  Trust me.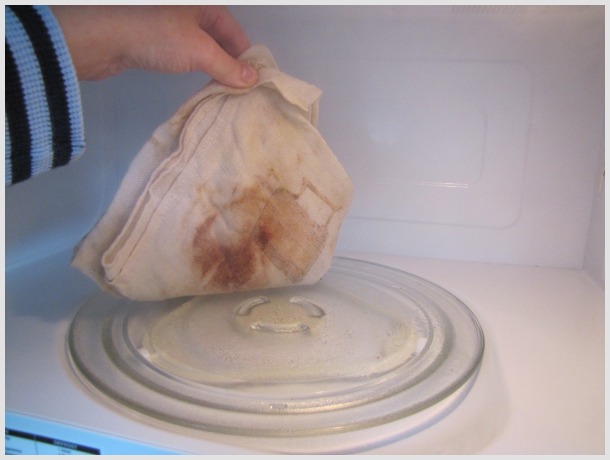 It's really that simple.  And if it worked on my grunge-encrusted microwave, then it's sure to work on yours.
Do you have any cleaning cheats that are almost too easy to be real?