**This giveaway is now closed.**
I'm so excited to share this totally rental-friendly giveaway.  Like my first giveaway, it's an item that I purchased but no longer have a use for.  But this time, it's brand-spankin' new, still in the packaging.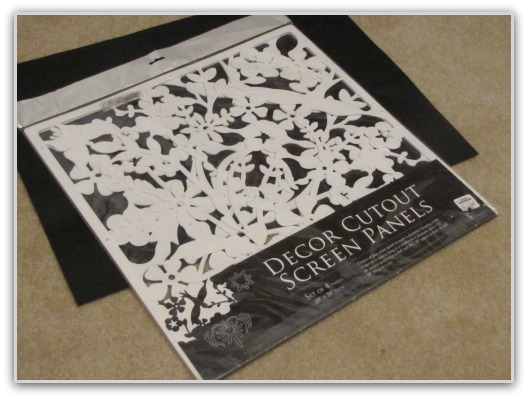 When I first spied this set of 4 floral cut-out hanging screens at the Container Store, I knew I had to snag a set for my home.  Here's how they work:  They're decorative plastic cutout screens that can be hung either from the ceiling or on the walls providing a totally easy – and temporary – way to divide a room or just add a bit of dimension to a wall.  The four identical squares can be clipped together to form a singular long hanging panel, a square grid, or can be combined in sets of two to create two identical panels.  I bought them, thinking I'd spray paint them a bright color and hang them in sets of two on either side of our bedroom window – but then I ended up using personalized photography instead.
So what to do?  Why, pass them on to one of my fabulous blog readers, of course!  There's so many different options for how you could use them in your home.  They're so lightweight that they can be easily hung from the ceiling with small Command adhesive hooks – and voila, a small hanging room divider that still keeps your space feeling open and light.  Need some fun, colorful decor for a large wall?  Paint them all one – or different – colors, and stick them to the wall in a grid using Command adhesive tabs.  Voila, a wall decor solution that requires no nails or screws.
Just to give you guys a peek at how they look in real life, I took two out of the package and hung them on hooks that I already had installed on my wall.  (Note – because I'm trying to keep the packaging in one piece, I used my own paperclips to attach the two screens.  The actual packaging includes very small round hooks to connect them.)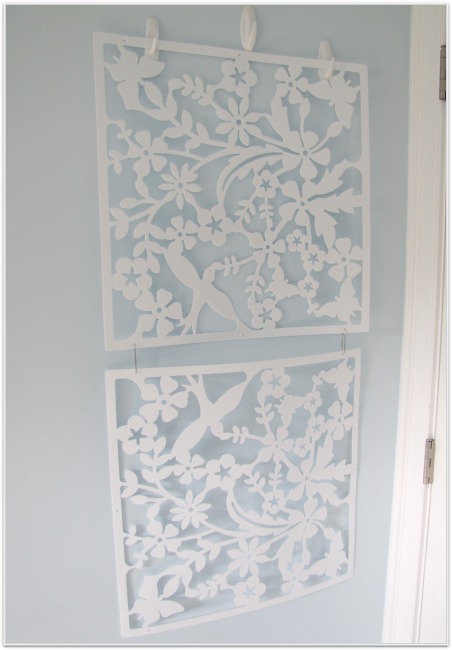 Go figure –  Now that I'm ready to share this giveaway with you guys, I can't find them anywhere on the Container Store website.  But UMA (Urban Materials & Accessories) sells these 3 designs (available in white and black), including the white floral one I picked up at the Container Store back in August.
And if you don't win, don't want to cough up the $29 for a set (that's more than I paid) and are still jonesing for a set, I have a feeling this could be DIY'ed with a pattern or stencil, box cutter, poster board, and a healthy dose of patience.
Now for the official giveaway details:
The Prize: One set of 4 white Decor Cutout Screen Panels (new, in packaging)
Who's Eligible: Anyone with a shipping address in the United States
Prize Value: $29.00
To Enter: Comment on this post, and share how you'd use these panels!  One entry per email address.  But want a bonus entry or two?  Tweet this or hop over to The Borrowed Abode's Facebook page, become a fan, and share the link.  Either way, be sure to leave another comment if you Tweet or Facebook it!
Giveaway Closes: Friday, Oct 29 at 8:00 pm
Winner will be selected using Random.org and announced on Monday, Nov. 1st.