Who would have thought that the small town of Littleton, NH would have a top-rate mid-century modern furniture store?  Certainly not me.  But Monday morning Ryan and I discovered just that, in the form of Just L, a "modern antique" store.  We never would have thought to look for such a shop in the town, but we were thrilled when we stumbled into it after getting our morning cappuccino and WiFi hook-up at Miller's  Cafe &  Bakery.
The kickass selection of vintage glassware had me swooning: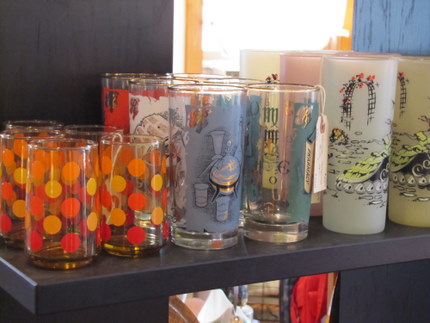 I was easily able to check one much-wanted item off my shopping list:  a set of 8 vintage highball/water glasses to replace the mismatched mess in our kitchen cabinets.  I also scored a beautiful vintage ice bucket and an awesome coffee carafe that I think I can use as a wine decanter as well.  Ryan got a lamp which you will see when Ryan lets me share a photo of his office (I guess it's no longer going to be a blog-free zone)!
There were several Danish modern & mid-century modern wooden pieces that would make perfect additions to our home, like this sleek upholstered chair: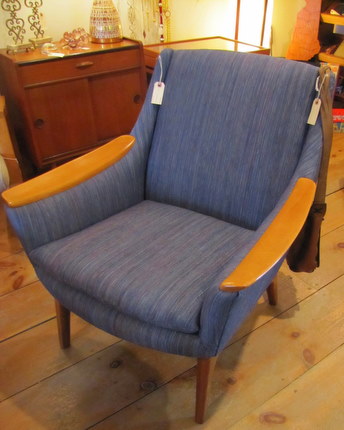 Or either of these gorgeous wooden dressers – both of which were reasonably priced: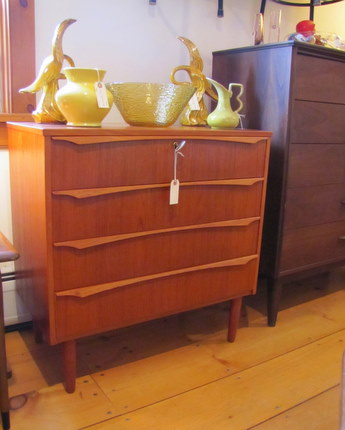 Or what about this entire "living room"?  I wish I "needed" that coffee table set!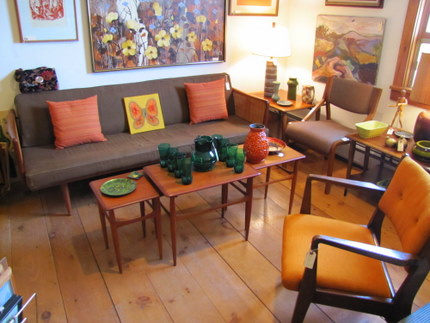 And this lamp made me wish I needed more lighting in my home: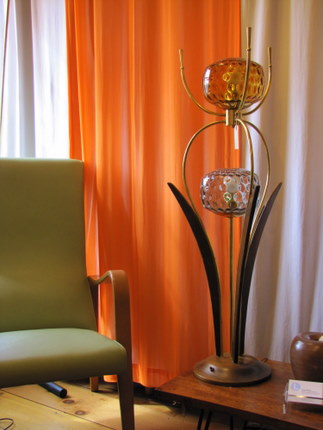 And I think I've saved the best for last:  this vanity has a ton of fun little drawers: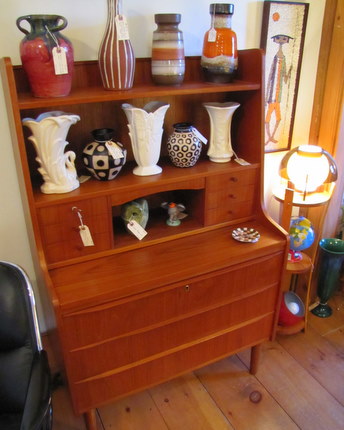 And this awesome little mirror that pulls out and props up for you to remind yourself how fabulous you look: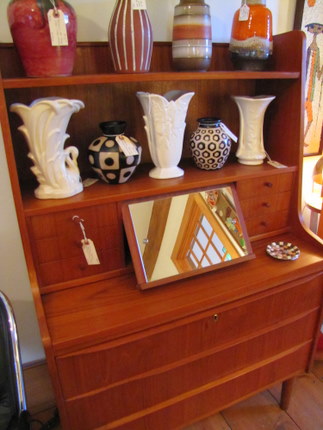 But even better than all the merchandise were the guys running the shop:  Lance and Greg.   Their friendliness and helpfulness, coupled with the awesome items at fair prices, have me plotting how on  earth I can justify driving back to New Hampshire just to buy furniture this winter.  New Years vacation, perhaps?
In the mean time, be sure to check them out on Facebook.    If you want to swoon in person, go to 16 Mill St. Littleton, NH.   And stay tuned for next week, when I'll sure to share my new vintage glasswares as soon as I get home and unpack!