Well we've hit the road on the first leg of our vacation, heading north through the seriously insane wind and rain.  When I promised to  share at least one decor-related photo – good or bad – each day, I had no idea I'd start off with such a delightful example of curb appeal.
I'm really at a loss for words: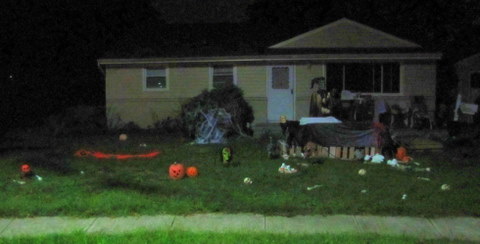 But Ryan isn't, of course.  In his words,
It looks like a discount Halloween store threw up all over their yard.  .  . I think the only thing scary about it is what it's doing to the property value.
Now, if you don't mind, I've got to get back to gleefully giggling over the fact that I am sitting in my car, with a laptop on my lap, surfing the freakin' web! As Brad Paisley says, welcome to the future.