I'm a total hypocrite!!
I rolled my eyes when I read that Martha Stewart suggested changing out throw pillows and other home decor accessories with the seasons. Who can afford to do that, not to mention have the room for storing all that crap?  (Aside from Martha.)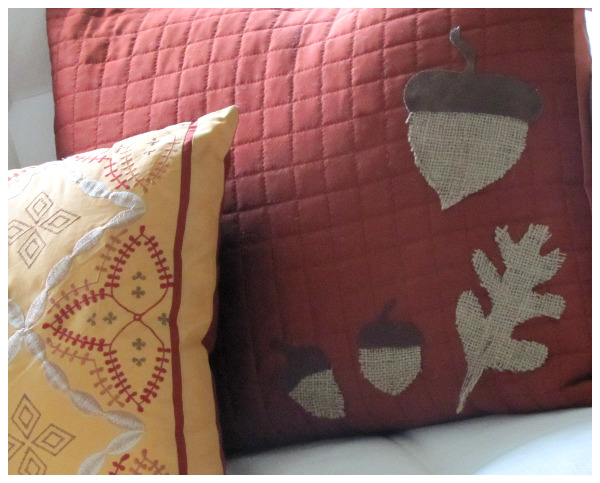 But now I'm heading straight to my non-seasonal mirror to roll my eyes at myself, since I accidentally made a few fall pillows for my sofa.  I could afford to, because I only used fabrics I already had.  See, the other day the pillow shams from my old bedroom set caught my eye.  Sitting in my closet, the rust-colored fabric had me thinking – "Why not?"
I'll skip the tutorial because there's already good ones out there – like this one from Betz White.  Suffice to say I cut up the king-size pillow shams and sewed them into square "envelope" pillow covers that open in the back for ease of use.  Envelope covers are my fave, because there is no fighting with a zipper when you sew them!

Once the pillow cases were made, I surprised myself by finding a ton of earthy fabric scraps in my stockpile.  I sketched and printed some shapes onto scrap paper, cut them out, and used them as templates to make a few little seasonal appliques for the pillows. Some brown microfiber fabric became a bird and a branch, while an old strip of burlap made some fun textured acorns and leaves. With only an hour to spare before company arrived, I laid out my designs and used fabric glue to adhere the appliques to the pillow cases. Oh, I was so excited and impressed with myself!

I love my pillows.  They provide a touch of fall ambiance and provide a cozy cushion for those rainy days that require curling up with a warm mug of cider and a good book.  Plus, my sofa needed a splash of color.  Bonus: because they're just pillow covers, they can be easily removed, folded, and stored when not in use during the other seasons.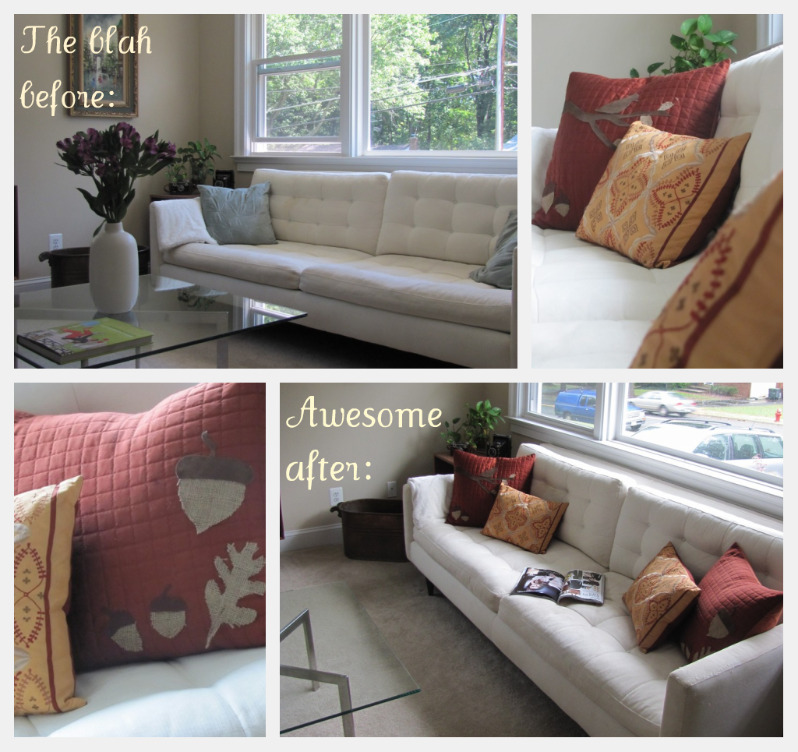 Shared at Upcycled Awesome at The T-Shirt Diaries, Sew Much Ado, The Thrifty Home, Blue Cricket Design, and Someday Crafts.  Hop on over to these blogs to see a slew of other great fall decor ideas!