I've always loved these little glass CB2 Teardrop wall vases.   They're the perfect solution for adding a splash of color and life to a wall in even the smallest space.
After lusting after them for more than a year, I finally cashed in a few of my AmEx membership rewards points to pay for them.  The plan was to hang two in the kitchen, one on either side of the cabinets flanking the window over the sink: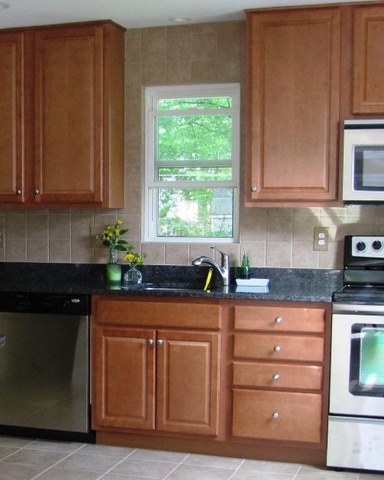 So after months of envisioning how they'd provide a bright splash of color to jazz up that window space, I finally got to hang them.
Er, attempted to hang them.  The nail didn't want to go into the side of the cabinet, and I quickly got worried that I might destroy the brand new cabinets.  So instead I used the Command adhesive velcro strips (because Command stick-on strips are a renter's dream) to hang the vases.  I added some flowers, and stood back to be impressed.
Wah-wah.   It doesn't look at all as I imagined it would.  I think it's cluttered and boring, at the same time.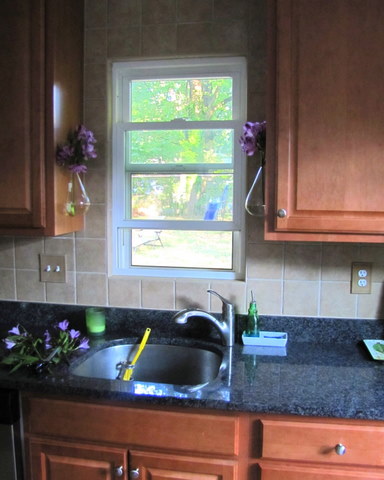 Plus, when you are closer, you can see the velcro strips that hold the vases to the cabinets.  Neither classy nor clean-lined.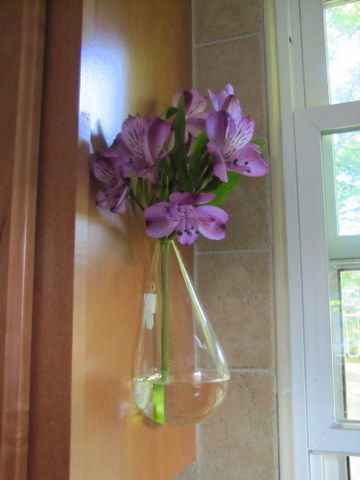 I guess not every project is destined to be a great success.
So I think I'll take the vases  down and find a better space in which to use them.  In the mean time, do you think a colorful fabric valance would do a better job of dressing up that window in the kitchen?