Sometimes, even the best-laid plans can go awry.  Or, in the case of our patio, the apparently-not-so-well-laid plans.
Recap:  With our landlord's permission, and agreement to split the cost 50/50, we were going to install a brick patio to fix this big mess in our backyard next weekend.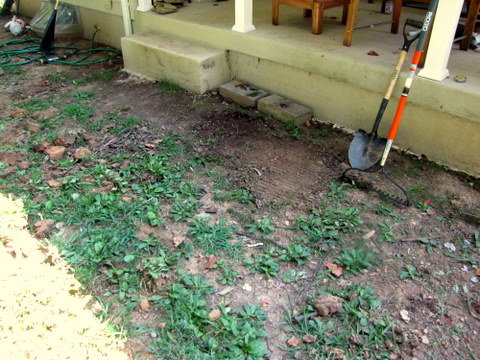 We'd already drawn up plans in both Google Sketchup, and provided an estimate of cost to the landlord ($300-$400).  On Sunday, as Ryan headed to the store to get some tools and make sure they had all the supplies, I started digging.
Just as I finished breaking ground around the perimeter, Ryan returned from Home Depot with some bad news.  I'd totally miscalculated just how many bags of crushed granite we'd need to create the bed below the pavers.  The granite alone would cost over $350.   Add in the pavers and other necessities, and we were looking at a cost of about $600 + for the project.
". . . scrrreeeech!"
We put the brakes on THAT immediately.
Sure, we could have skimped on the gravel bed and kept things within budget.  But doing a half-assed job would be unfair to our landlord.
So, after a moment of pathetic self-pity, I remembered just how many wonderful things we already have to  enjoy, and be thankful for, in our little rented home. I put my big girl pants back on and  looked at the bright side . . .
Yay!  No backbreaking manual labor!
Yay!  Saving money, finding a cheaper solution.
Yay!  Finding a much more temporary, rental-friendly solution that could help my readers.  Because let's face it, installing a brick patio is NOT an option for most renters.
. . . and then I started flinging options at Ryan.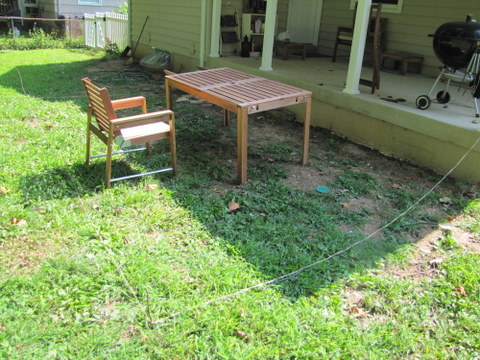 Let's revisit our needs:   The porch was too narrow for our outdoor dining furniture, and we wanted to move it to the yard.  The ground formerly known as patio-central was still scrubby, uneven, and the opposite of attractive.   So what options did we consider?
Astroturf
Ha! You laugh.  The mention of Astroturf only makes you think of tacky outdoor areas.  Or the Brady Bunch.  But it was the first solution I thought of to easily cover the 'area formerly planned as patio'.   Astroturf has come a long way.  It can be a much more realistic grass color and texture now.
The cheapest version comes in all sorts of colors – fake green, gray, blue, brown, taupe.
Frankly, I was dying to use this option.  Just because it'd be funny as hell to tell you guys "hey, I used Astroturf.  No, really."   (And it's got its merits:  Enviro Girl mentioned it last week as a viable no-water lawn alternative.  And designer Brian Patrick Flynn used it in his backyard.)
How would we do it?  We'd grade the ground to draw the water away from the house and the astroturf.  Then we'd lay weed cloth over the area.  Finally, we'd lay the astroturf, and set 4×4 boards all along the perimeter, covering the edge of the ground cover.  We'd anchor those with rebar.  Or something like that.  But are you with me?
A mulch bed
Sure, it wouldn't be gorgeous, but a mulch bed would at least look tidy, and be easy to maintain, and keep graded.  (Water runoff is an issue for this area.)   But it would probably be too soft and potentially dusty under the table.  Next!

Plywood
"What if we bought a bunch of sheets of plywood, laid them down side to side on the ground, and anchored them in place with rebar and a border of 4x4s?"  Ryan looks over at me with that "I thought I had a smart girlfriend, but maybe not" look that he gets . . . all too often.   Ok, so that's ridiculous.   It would look totally lame, and it would buckle and warp with every change in the weather.
Portable Wooden Decking Squares
I suddenly remembered seeing these snap-together decking squares at Ikea.  And now I know why people would buy them.  Snap together your own wooden "deck" right overtop of your cruddy ground?  And then dissemble it and take it with you when you move?  Hell yeah.  What a great idea.
But it's probably expensive.  And Ikea was almost sold out of them last month. And did I mention expensive?
An outdoor carpet!
Duh!  Why didn't I think of this much sooner??  If we could find one large enough that the table and chairs could all sit on it, that would do the job.  And if it got mucky, we could just hose it off.   
That' the winning solution. It's so easy to install it's crazy.  I did a little happy dance at how my Labor Day Weekend immediately became exciting, now that no manual labor was involved.   The toughest thing I'll have to do is find an outdoor carpet and put it on the ground. Wahoo.
Now you tell me:  are there any other solutions we should have considered?  Do you think I'm absolutely nuts for considering Astroturf?