While I'm sure there can be many benefits to new construction developments, I think they often suffer from a severe lack of personality.
That factor made it especially tough for my parents to leave their beautiful old stone home on a large wooded lot to move to a new townhouse in an "active adults" community.  But the move was necessary; my mom will eventually be in a wheelchair and she wanted to plan ahead and downsize.  The new home offers a first floor master suite, and wider doorways for the wheelchair.
The generic front door is tucked back in a shady alcove between the garage and the front room of the home.  Despite the shade, we wanted to brighten it up and bring life to it with some potted plants.  And we did, with little more than 1 hour's work.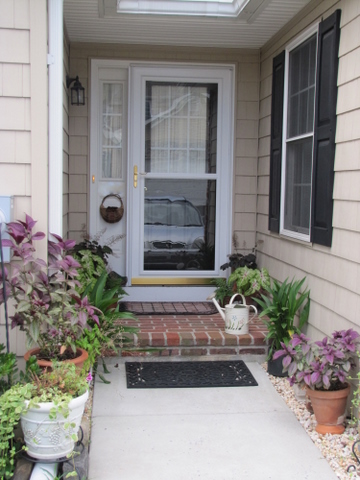 We hit up the orange big box store for some Caladiums, Coleus, Cala Lillies, ferns, and herbs.  We plopped them into the assorted terra cotta pots that were gathering dust in the garage.  I gave height to some of the pots by putting them atop other pots that I turned upside down.  (I used some glue to hold them steady.) You've seen that trick before on blogs, I'm sure, so I won't go into more detail.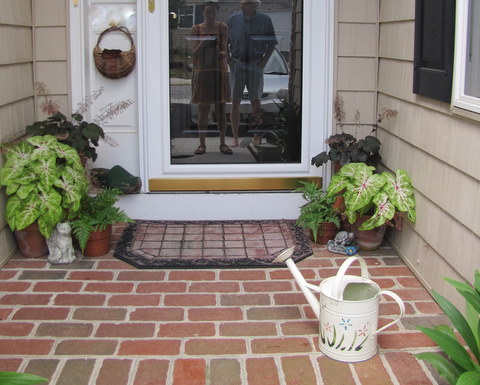 Oh,  I tucked in the odd decorative winged cat statue that my mom picked up at TJ Maxx.  I kind of hid him in there to keep her happy.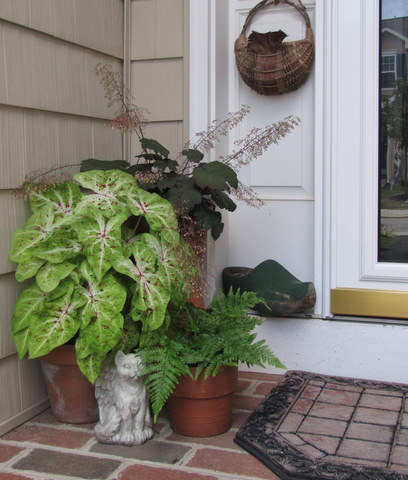 A simple galvanized steel watering can, painted white and then stenciled with a floral motif, is both functional and decorative.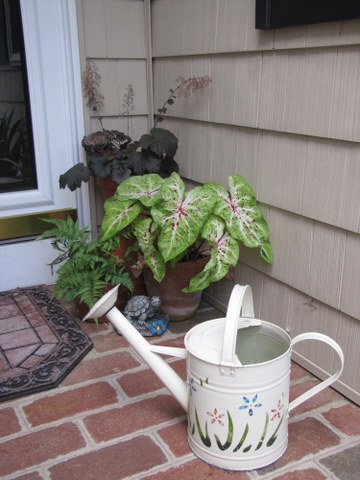 We also used some large rocks, plant stands, and potted plants to disguise the unsightly gutter spout and electrical box that that builders decided to put right smack in the front of the house.  What were they thinking?  Oh wait, I guess they weren't.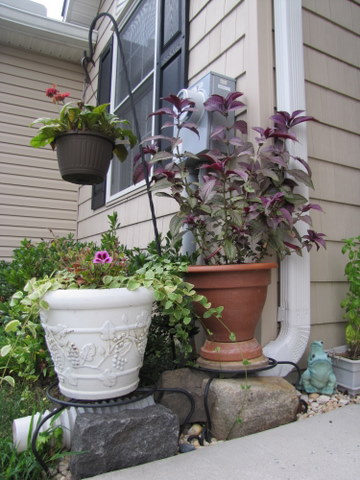 Isn't it great what a few pretty plants can do to liven up even the smallest outdoor space?  I was pretty pleased with the shade plants, too.  There's some pretty options out there, you just have to hunt for them a bit.
This isn't the first family project I've tackled.  In the past year my brother and I created a nursery for his newborn daughter,  built a brick-walled garden for my parents, helped my dad organize the garage, and I spruced up some bookshelves.
I shared this project over at Metamorphosis Monday and at 1 Bella Stager's link party, and you should share a project with her too!