When I built my first square foot garden, I knew I wanted to start home composting immediately.  I had to purchase compost as part of the recipe for the perfect raised bed garden soil mix, and I felt silly paying to cart someone else's rotted organic matter home.
Every time I threw my fruit and veggie waste in the trash, I felt like I was wasting future compost – but I didn't want to take the time and effort and money to build the wood and wire compost bins described in the Square Foot Garden book.  What can I say?  I'm impatient – and cheap!
For less than $20, I snagged a large plastic storage bin at Target.  Knowing that the key to successful composting is not only damp and dark conditions, but also airflow, I used a very large drill bit to drill holes on the top, bottom, and sides of the container.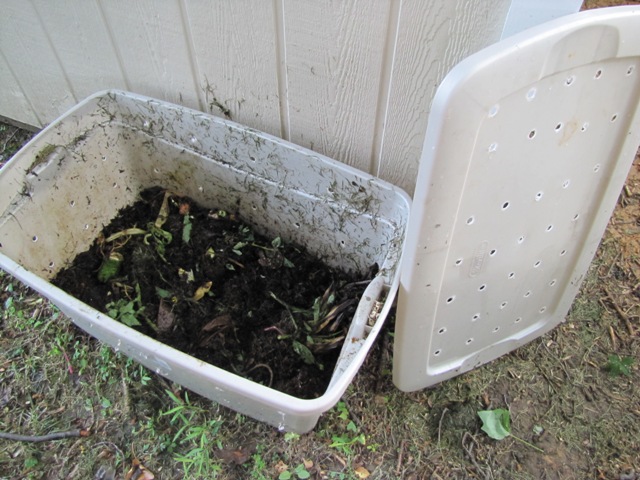 During the coming week, as I started filling my compost bin with my kitchen scraps, I noticed that I had plenty of good green waste to get started but was lacking the brown stuff.  (To create ideal composting conditions you should have a fairly balanced mix of "green" and "brown" ingredients.)  In addition to kitchen scraps, you want to have fairly equal proportions of brown and green matter too.  Examples of good brown stuff:  leaves, cardboard, tea bags, unbleached coffee filters, sawdust.  Examples of good green stuff:  veggies and fruits, grass clippings, coffee grounds, plant trimmings.
I racked my brain for ideas of cheap or free "brown stuff" and found several solutions in the pet aisle of my local grocery. Swheat Scoop and Feline Pine, both all-natural cat litters that I have used in the past, would work.  Feline Pine is simply very fine pine chips.  Swheat Scoop is a byproduct of wheat processing.  But then I spied a huge bag of pine shavings for a hamster cage – for only $5.  Sold!
I took my pine shavings home and emptied the whole bag into the compost bin, mixing it well and adding some water to moisten it.  I gave everything a good stir with my pitchfork, ensuring that the moistened pine got well mixed with the rotting kitchen compost scraps.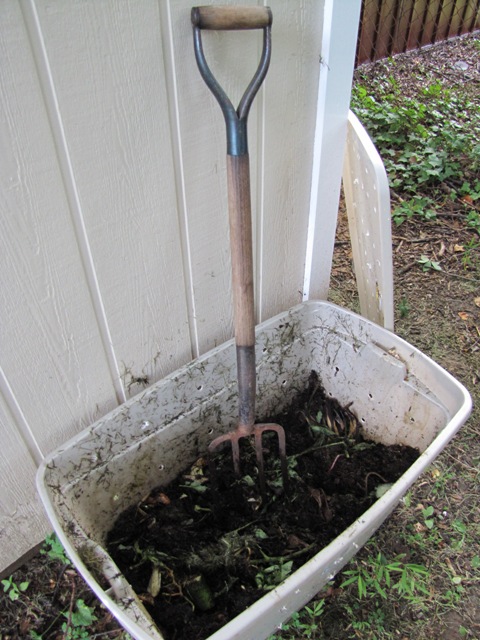 How do I maintain it?  Almost every day I take my kitchen scraps and dump them into the bin, then give all the compost a good mix with the pitchfork.  It seems that a daily mix makes for the quickest composting, as it helps move air around to promote the breakdown of the organic matter.  I'm about 3 weeks into it, and I've got some good compost ready to sprinkle on my gardens.
Random thought:  I'm not sure why some places specifically call their compost "organic compost" – isn't it all organic matter that has broken down without chemicals? Regardless, I know that my compost is,  because waste from organic fruits and veggies = organic compost.
Style tip:  A plastic bin isn't the prettiest thing to rest your eyes in, but since I chose a neutral color, the compost bin sits right by my shed without sticking out like an eyesore. And because that bin is portable, I could easily drag it behind the shed if I didn't want guests to see it.  And when I say "easily drag it," I mean I could easily ask Ryan to move it.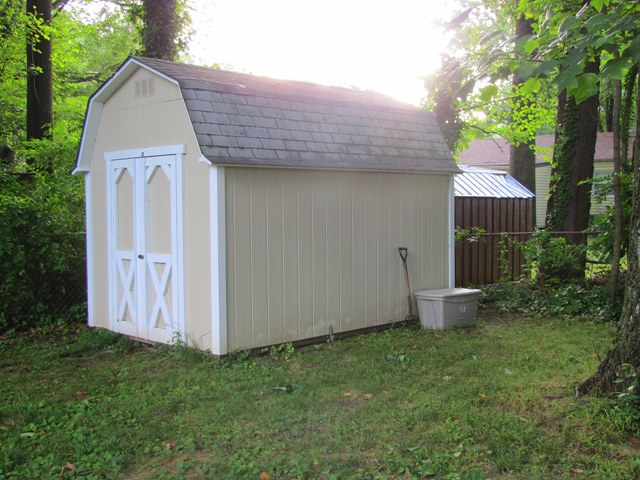 What do you think?  Are you ready to try some at-home composting?  It really is this easy.  $20 and 15 minutes of my time got me a totally functional compost bin.  In the land of home improvement, it doesn't get much easier than that!
Because of the flexibility and portability of the square foot garden, it's never too late to start your own, and it's perfect for renters.  You can read about the installation of my first gardens here and here.
And if you want to get gardening, or just are curious about the method, pick up your own copy of  All New Square Foot Gardening: Grow More in Less Space!