It's time for another sneak peek at the progress being made in my master bedroom.  The ceiling did require two coats of paint, but now that it's all dry and the edge tape has been removed, I think it looks pretty darn good.  Remember I mentioned that I tried to match the color to the mystery color on the walls?  Well, in daylight the colors seem to match perfectly, so that's exciting.  Unfortunately the camera seems to pick up and exaggerate even the slightest difference in tones, as seen here: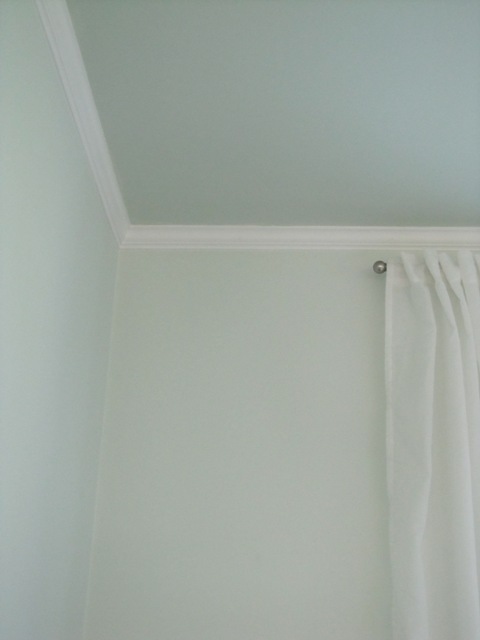 But oh, how I do love the way the white molding stands out just a bit more now that the ceiling has a touch of color!
Moving on to the less successful project completed this week:  the hanging of the curtains.  The very inexpensive white cotton curtains I picked up at Ikea last weekend are just not cutting it for me.  Back they go.
I can't put my finger on the problem, so let's just say that they lack a certain swanky, "va-va-voom" look that I was hoping for. Ryan says they're too lightweight and see-through.   I think I'm going to have to bite the bullet and spend a bit more to get the look I'm going for – maybe a white raw silk will do the trick.  A little bit of sheen, texture, and a little more weight.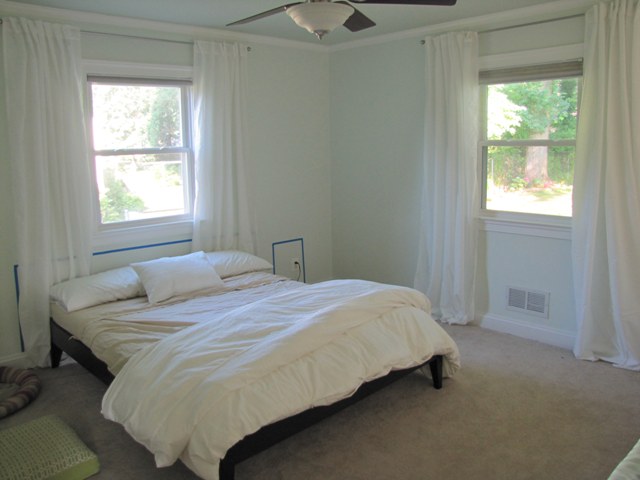 But what else is "off" about this look?  Maybe the curtain rods don't extend far enough past the sides of the window?   We discussed it tonight and we're think we want to stick with white.  We'll bring more color into the room with decor on the walls, but we really don't want a lot of color.  The photos don't do it justice, but when you're there in person the wall color feels wonderful.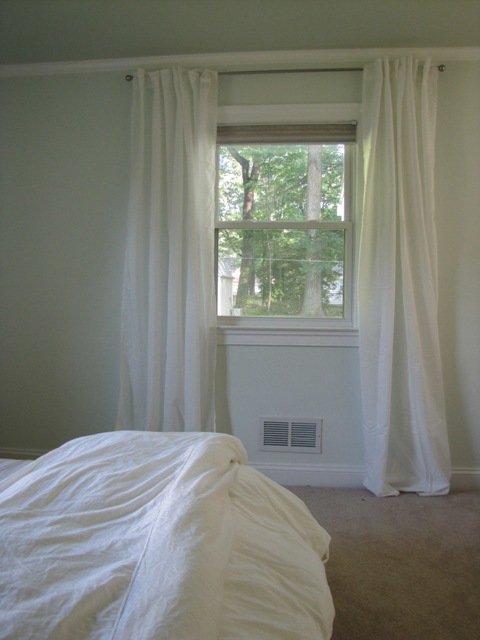 Help me out here.  I'd love to hear your take on what is just not quite right with these window treatments.
Maybe if I make the white silk drapes I should make a thick top border out of the same fabric as my accent pillows?
And in the mean time, have a fantastic weekend!  I can guarantee you I'll spend mine working on this space!
Psst!  Hop on to the next post to see the fabric samples I just ordered!