Whoops!  Where did Monday go?  I think I saw them streaking by my window at warp speed.  Oh wait, those were the baby foxes that live behind our yard.  And now it's late on Tuesday night, so I guess there will be no Tuesday post either.
I've been crazy busy since last Friday, between a whirlwind weekend at my parents' house, a busy start to the workweek, the towing of my car which won't start and practicing making the wedding cake for my bff.   You can peek at my weekend excitement here:  we threw an afternoon tea for family and friends to meet my new niece.
But on to the other good stuff:  Today I'm sharing a quick little peek at the main bathroom.  Like the rest of our abode, this space does not  feels nothing like a rental home bathroom.  Someone please pinch me.  I must be dreaming.
Here's what you see when you enter from the hall.  Note that the lower portion of the window is frosted/bubbly glass for privacy.  Great – and useful – detail!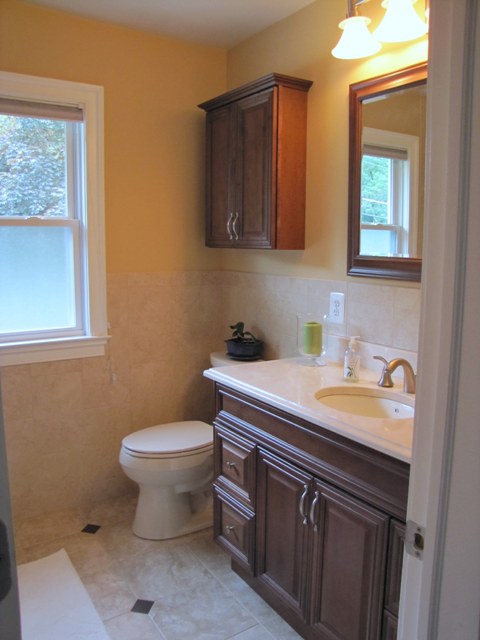 After having a bathroom sinks with nonexistent counters for the last 4 years, I just love having a real vanity counter in this bath.  Not to mention the cavernous storage space below.  One reason why?  I always wanted enough counter space to use cute decorative containers to store my q-tips and cotton puffs at hands reach.  Now I have it!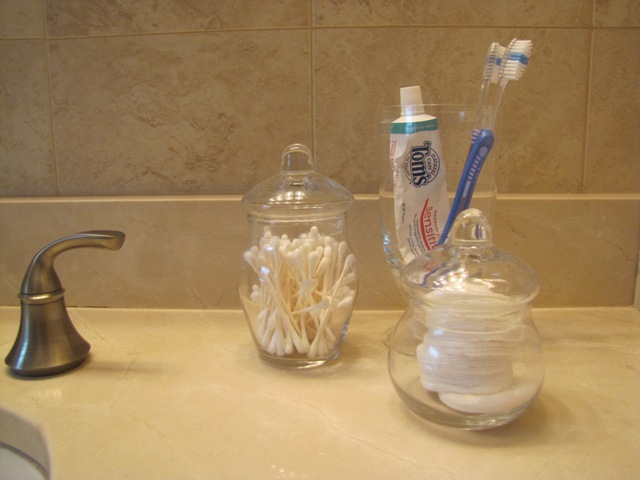 As far as projects go, I'd like to do something to camouflage Ryan's beloved flip-lid trash can.  He likes the ease of use, I don't like the looks.  I'm sure a compromise can be reached.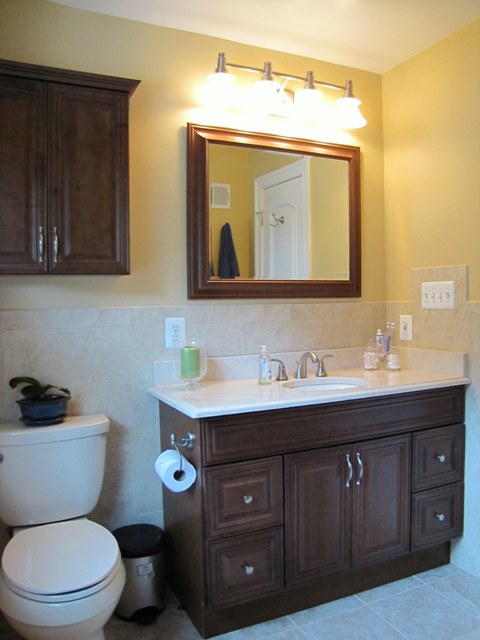 Another thing I love:  Glass doors on the shower.  No more shower curtains that need to be changed out or washed.  And the shower feels so much more open.  The only downside?  Soap scum leaves a film on the glass, so I need to find an eco-friendly way to clean it off regularly.   I've also been considering getting a squeegee.   Thoughts?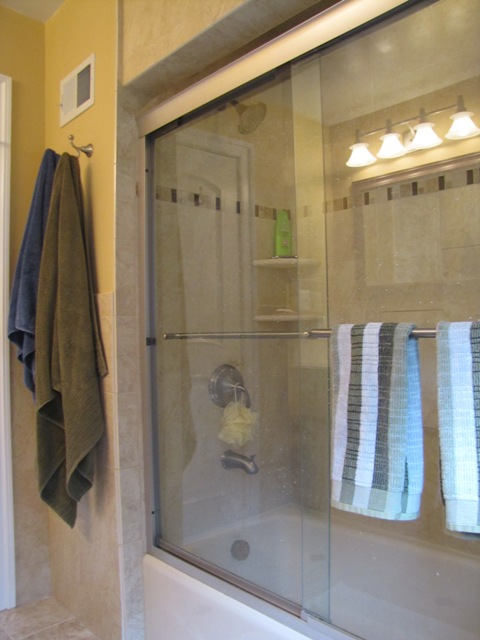 Let's take a closer look inside this shower.  We always love a good sneaky storage solution, and I always like keeping most ugly bathroom toiletries out of sight in the shower.   See that little round shelf hidden in the corner above the shower door?   There's one on either end of the shower.  Awesome!
There's also a separate light inside the shower.  The night of the move, as I stepped into the shower, with that separate little light illuminating it,  I momentarily forgot it was my home and not a hotel.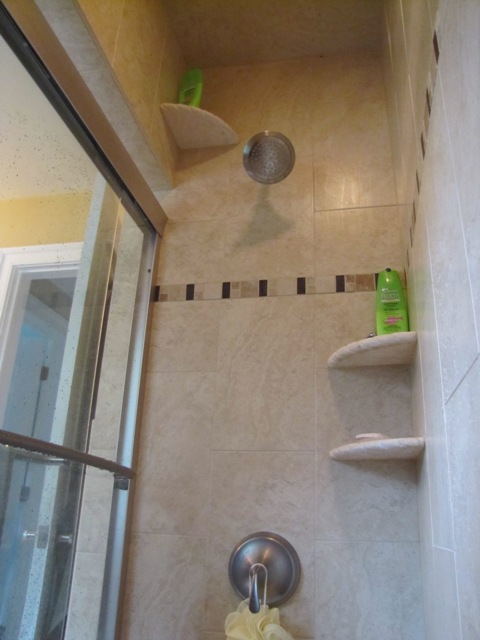 I'm also loving the detailed tile work, and the turned metal washcloth bar provides some elegant detailing in the shower as well.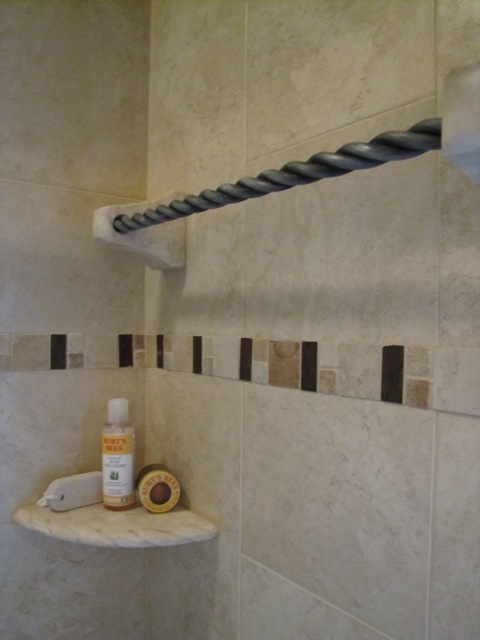 And finally, a shot taken from outside the window – just for perspective.  The paint is actually a neutral tan, but it's got a lot of yellow to it.  We havent' decided if we want to work with the yellow, and accentuate it, or repaint it a lighter, brown-er neutral to accentuate the creamy tones of the tile and the rich mocha of the wood.
The thing is, with a bathroom this nicely renovated, there's no rush to decorate.  It's quite lovely – not to mention an improvement – just the way it is.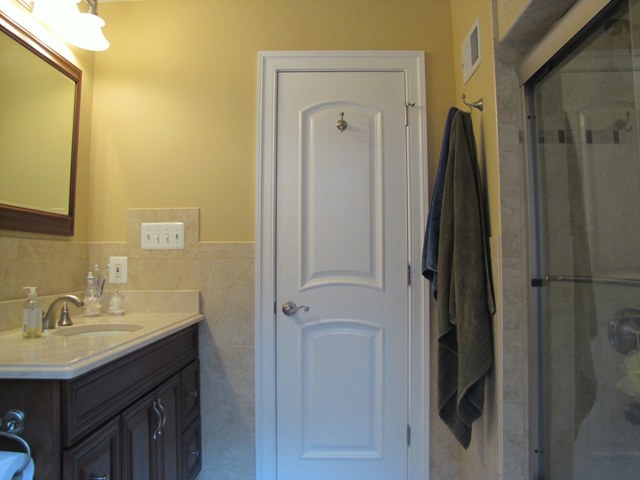 Click here for Part 4: Master Bedroom