Do you mind if I ramble on about my fabulous kitchen today?  I certainly don't mean to brag, but I do feel quite spoiled in here.
The kitchen just might be the reason I fell in love with our new house.  The beautiful new cabinets, the easy-to-clean granite countertops, and the recessed pantry and fridge just had me at hello.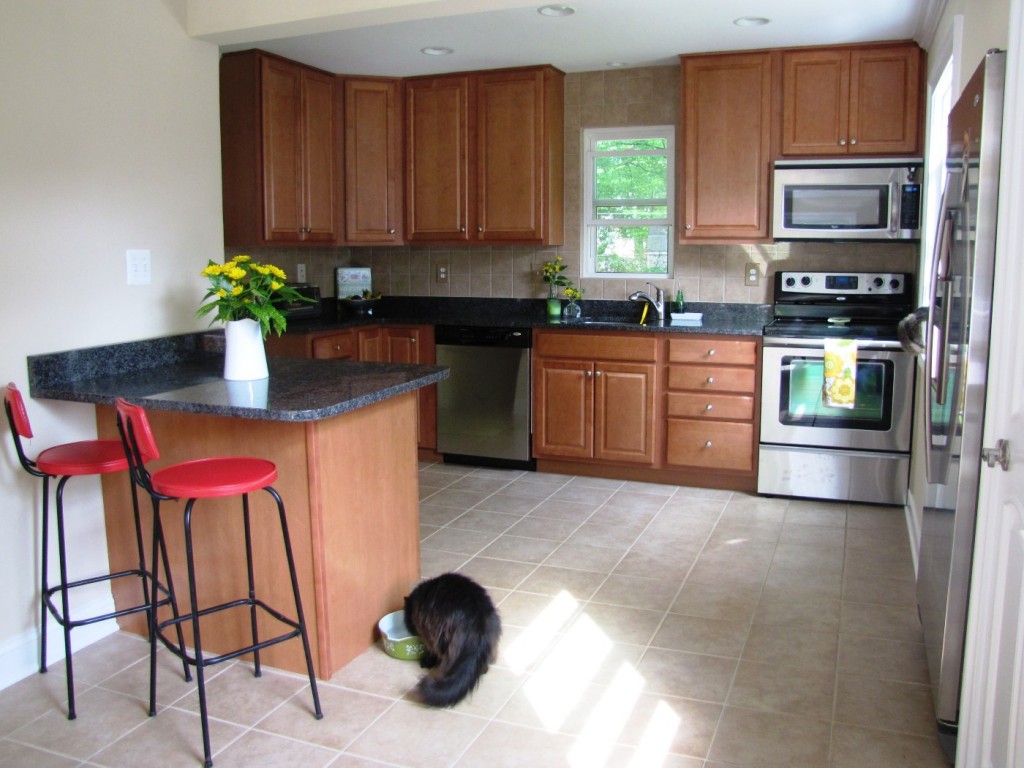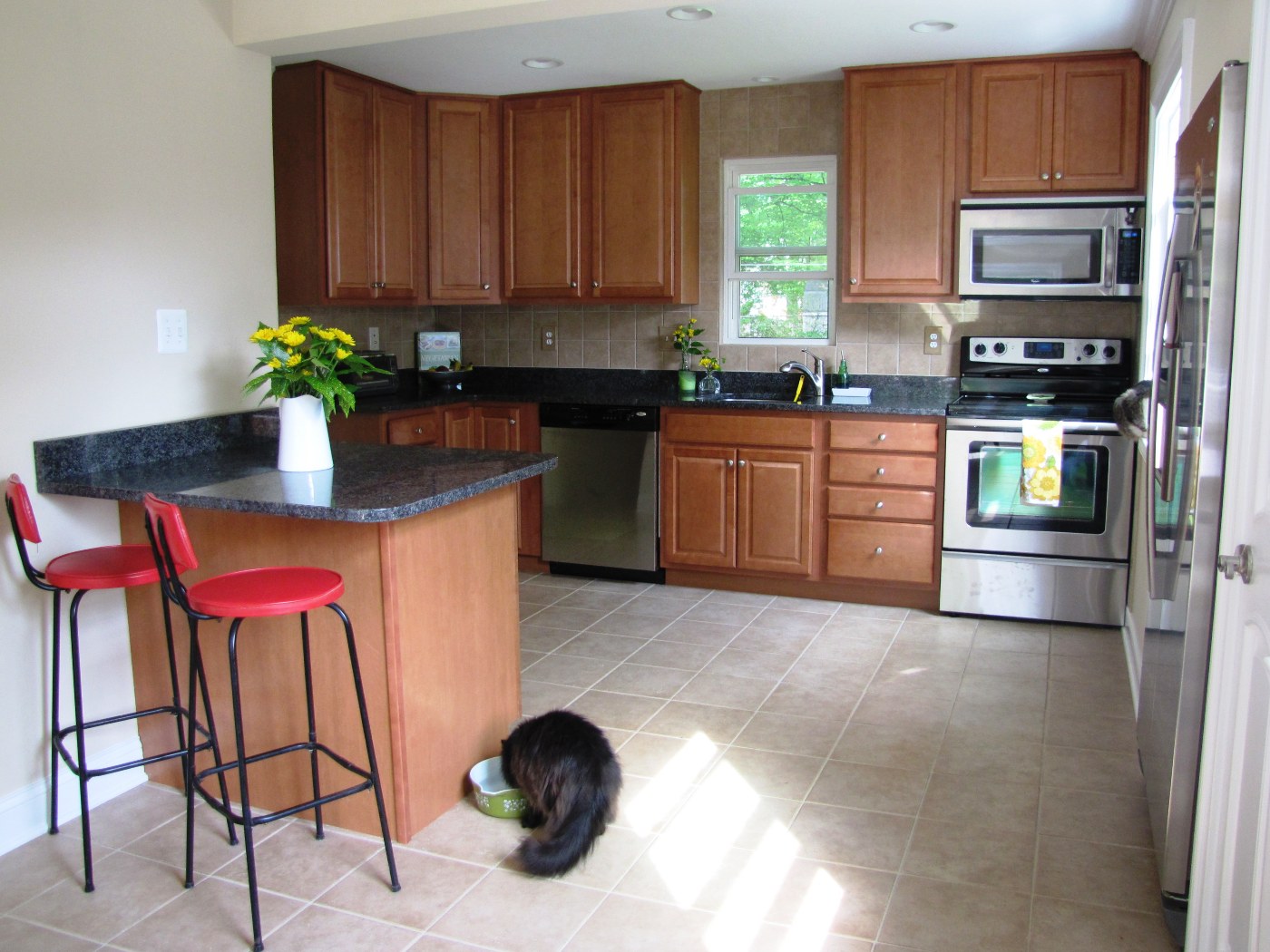 Almost every night after work you can find me whipping up a not-so-quick dinner, as I love to cook.  Quick-n-easy premade meals have never been my thing;  on any given night I may whip up a batch of Panang Curry, Seared Sesame Tuna, Ceviche, or a tofu stir-fry.  And having my spice drawer next to the stove just makes that cooking a little bit more convenient.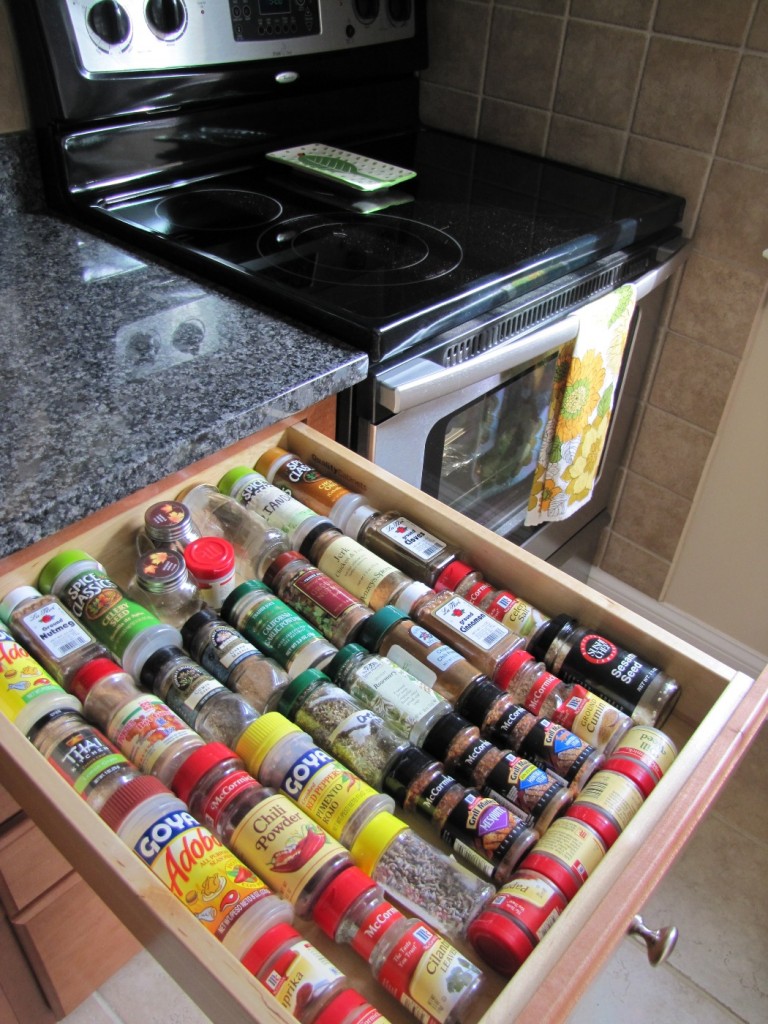 Regardless of the night's menu, my cat Doctor supervises me from his perch on the window sill by the stove.  It's the perfect compromise for a nosy cat, allowing him to supervise from counter-height without breaking the "no-cats-on-the-counter" rule.  And yes, I totally talk to him as I cook.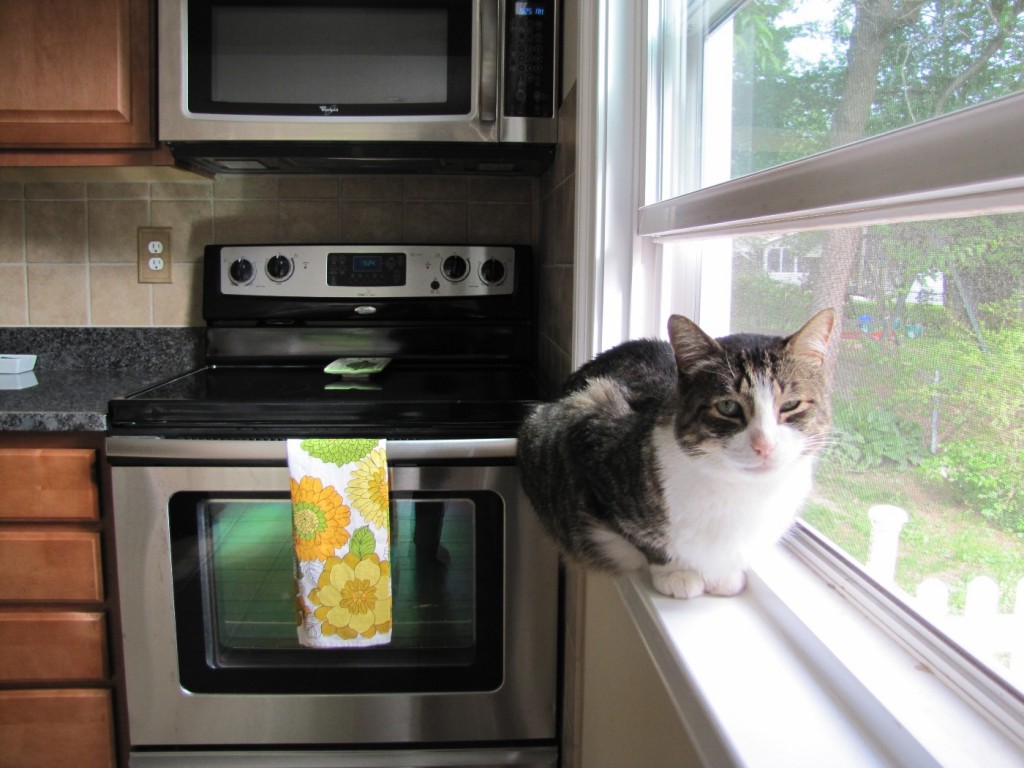 That vintage floral dish towel hanging on the oven shows the citrus-y color palette for the space.   The stone tiles are gorgeous but hard on the feet, so I plan to bring in a large spring green rug to provide some cheerful and  functional cushioning.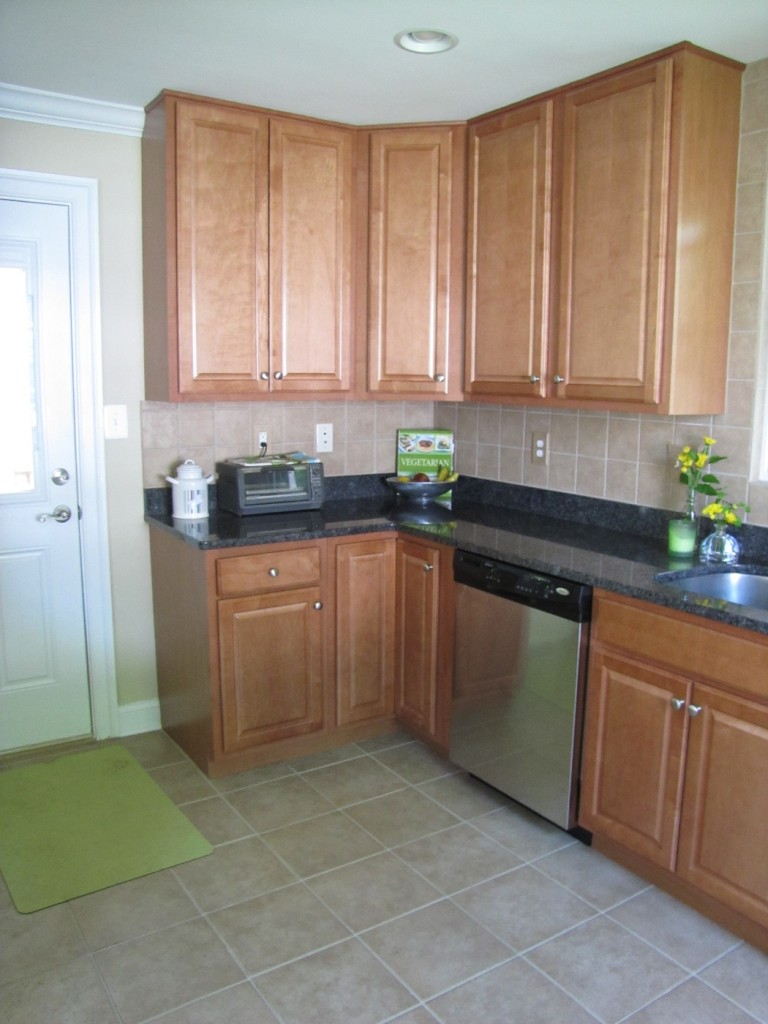 The small scale of the dining space (the tiled area between the kitchen and living room) presents a bit of a challenge.  I'd like to paint the ceiling to better define the space and also accentuate the crown molding.  And then there's the matter of finding a table and chairs that work with the space.  But I've lived in enough small and tricky spaces to know that there's a good solution out there; I just have to find it.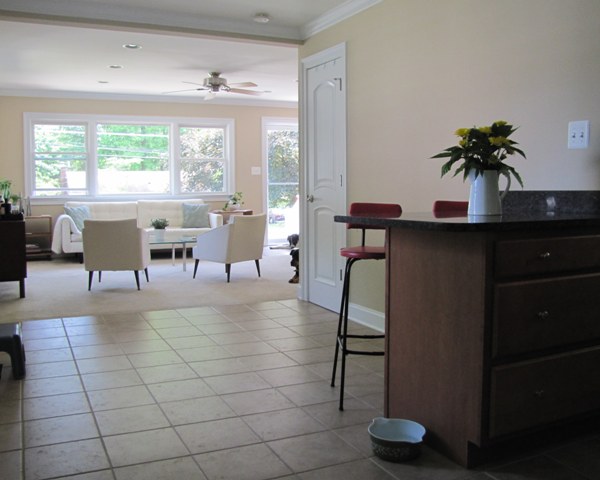 See that little vintage pyrex dish on the floor?  That's currently the pups' water bowl, but I'd love to build a wooden tray table to hold a water bowl under the counter in a more stylish and streamlined way.   A skinny but deep rectangular trough would be awesome . . .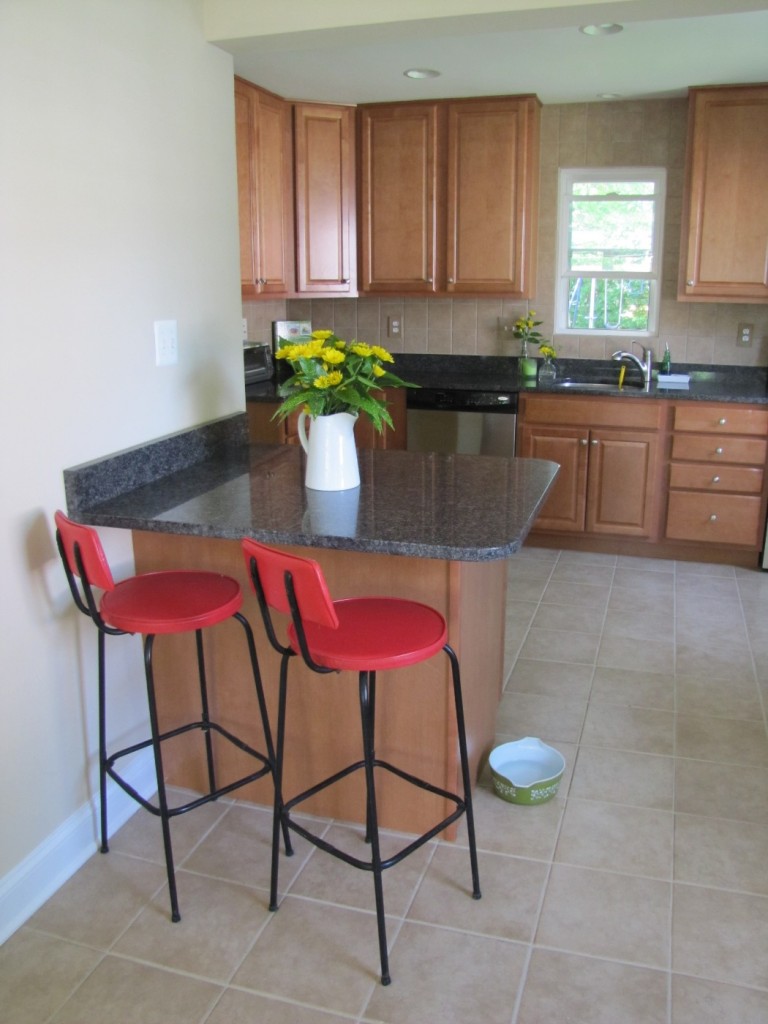 Well, that's it for now.  I hope you enjoyed the second part of my new house tour! And if you didn't see it yesterday, you can check out part 1 right here.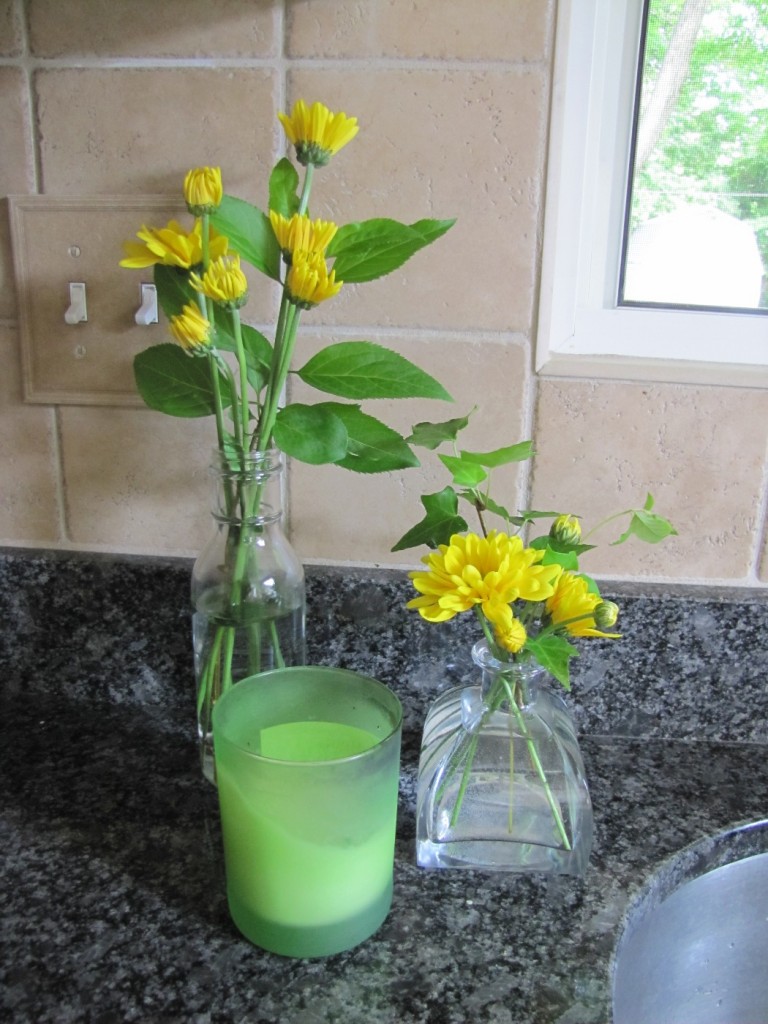 I feel so incredibly blessed to have this beautiful rented space to call my own, even it if only for the next few years.   Have a great weekend!
Click here for Part 3:  Master Bath