Last week I gave you a sneak peek at my beautiful new custom-built furniture in my living room.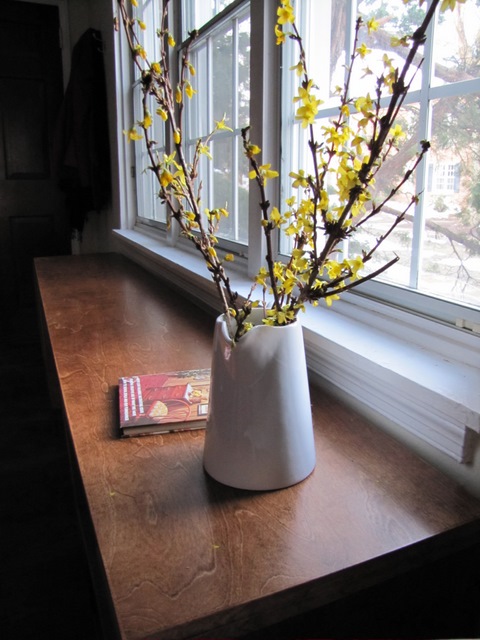 And now I'm ready for the big reveal:  A custom-built solution that hides an eyesore while providing beauty and function.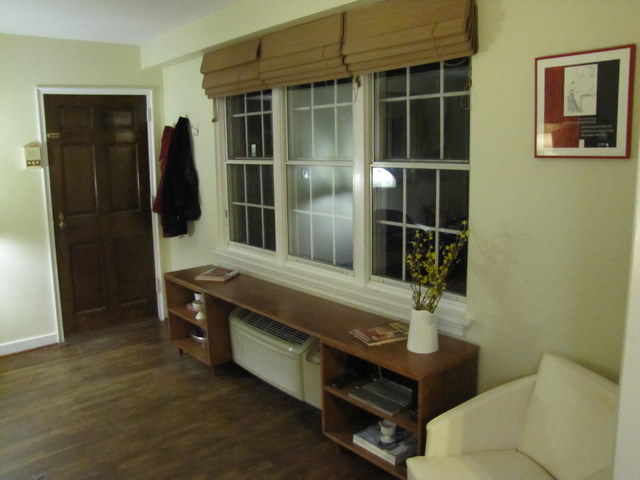 In the fall I realized that I needed to do something to cover the hideous heating unit that protruded from my living room wall.  As a renter, I wanted a simple modular solution flexible enough to work in future homes.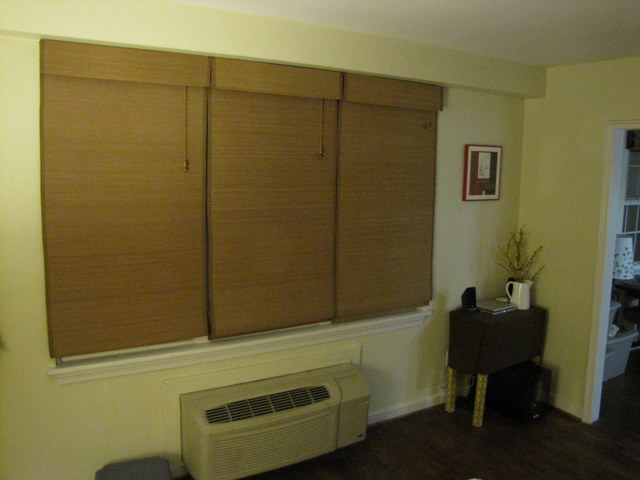 The solution?  I designed a piece of shelving to frame around the wall heater – two small, simple bookshelves with open backs.  A long (matching) board placed across the tops would create a functional surface while giving the pieces the look of one large, almost built-in  unit.
The shelves work so well around it, I only wish I'd thought of it sooner!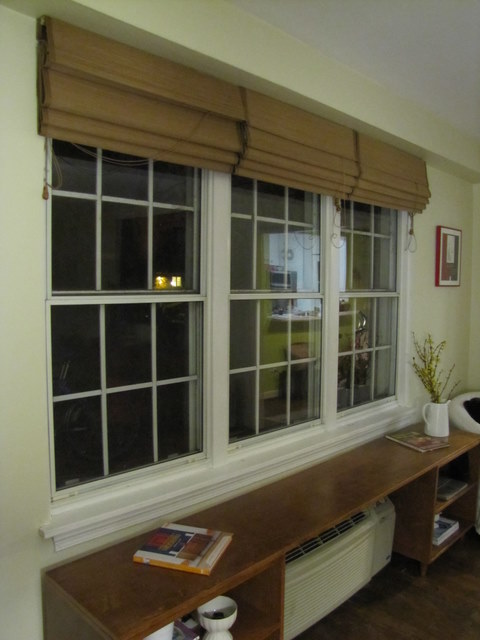 I love how it turned out.
It may not be the fanciest thing you've ever seen, because that's not the style I go for in my home.  Simple, functional, and beautiful is more my thing.  With just a twist of mid-century charm. Kind of like the Vespa, a James Bond Martini.
The shelves by the door hold my keys, dog cleanup bags, and a bowl full of cat toys.  On the other side, one shelf functions as a media center, hiding my old Powerbook, its speakers, and my iPod.  Laptops and speakers never look pretty when out in the open!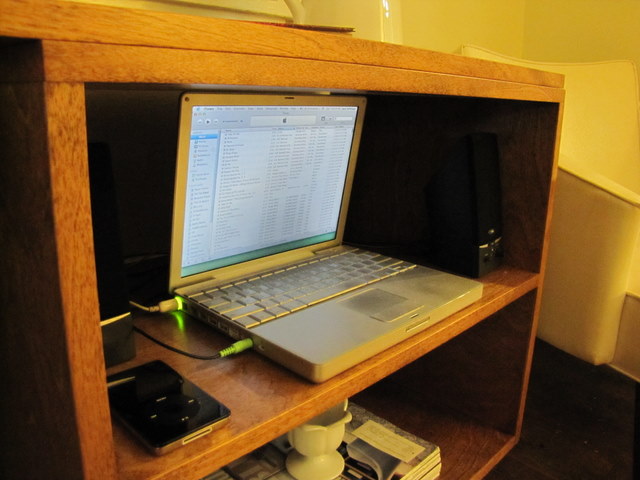 I designed tapered round feet so that the bookshelves would blend seamlessly with my mid-century furniture.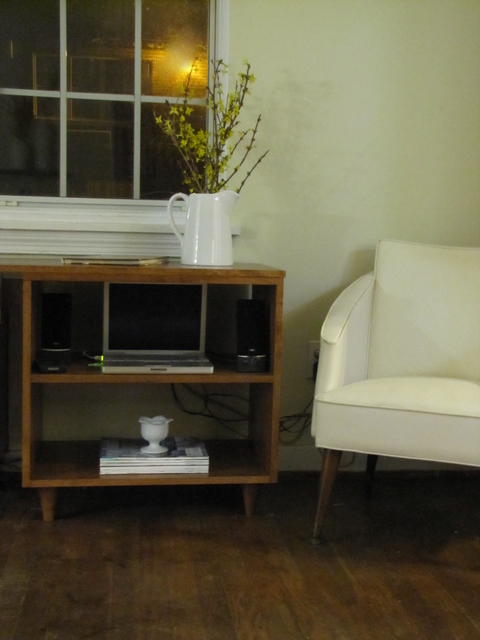 Aren't the feet precious? And look at the gorgeous wood grain.  And the way the corner is perfectly joined. Just don't mind the ugliness behind it, at the base of the wall heater. No one sees that unless they get down on the floor.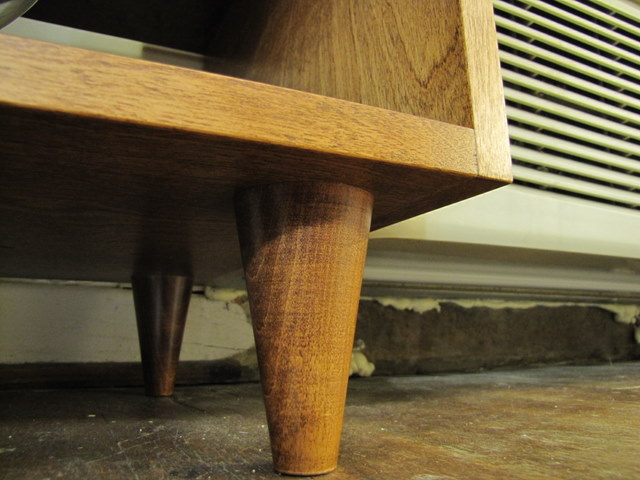 You're probably wondering how I built this.  I must confess to you that I did not. I'd planned to, with the help of my dad and his workshop tools.  But then my former boss, whose son is an incredibly talented furniture craftsman, volunteered to get it built for me.   And let me tell you – it is one amazingly gorgeous, perfect piece of furniture.  One that I will use and love for decades to come.
Now tell me this. . . what the heck do you say when some talented guy you've never even met builds you the most amazingly awesome piece of furniture just because his dad asks him to?  Somehow "thank you" just doesn't seem to cut it.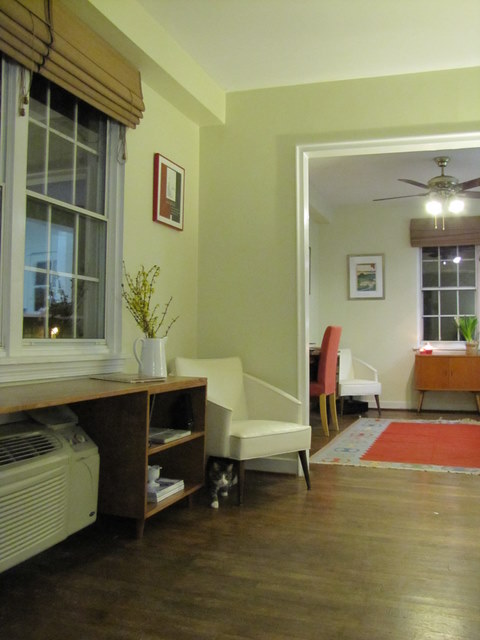 Have you ever had to deal with these awful and ugly wall heaters?  Not only are they inefficient, they really ruin wall space!